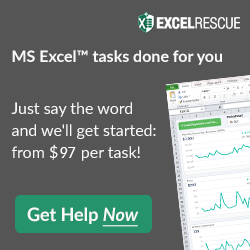 If you need help with Excel tasks/projects, I suggest you take a look at ExcelRescue.
My main objective with Power Spreadsheets is to share what I've learned and continue to learn about Excel.
Even though I don't do consulting, I still receive many messages from people looking for consulting services or 1-on-1 help.
I would love to help everybody. However, I'm currently unable to do this. The time I spend helping a single person is time I don't spend helping tens of thousands (at the same time) through my work at Power Spreadsheets.
For these reasons, I've decided to partner with ExcelRescue. ExcelRescue has developed a system that allows them to provide 1-on-1 consulting services for both small and large Excel consulting projects covering (for example) the following tasks:
Functions and formulas.
Data visualization, graphs and charts.
Dashboards, scorecards, KPI or executive summaries.
Templates.
Power Pivot.
Power Query (Get & Transform).
Macros and VBA.
Corrupt file recovery.
Other Excel-related tasks (you can contact them and describe your task).
The following are some of the reasons why I like ExcelRescue:
A simple online form for submitting tasks.
Competitive pricing structure.
Money-back guarantee for certain projects.
Adherence to a strict Non-Disclosure Agreement.
Fast turnaround time.
Learn more about ExcelRescue by clicking on the banner below.



The links above are affiliate links, which means that if you choose to make a purchase, I will earn a commission.