Hi, I'm Jorge.
I'm Here To Share The Most Comprehensive Excel Tutorials
First of all, welcome to Power Spreadsheets!
I've worked several years in finance and data analysis in different parts of the world: South Korea, Singapore, Colombia (where I was born and grew up) and Germany (where I currently live with my wife).
As you can imagine, my experiences were very different depending on the country and exact position I was in. However, one thing was pretty much always constant:
Lots of Excel.
I've always considered myself to be good at computers. Therefore, at the beginning, I didn't really take the time to study Excel properly.
In other words:
I thought I knew how to use Excel properly.
The fact that my colleagues generally thought that I was an advanced Excel user who could do quite impressive things reinforced this opinion.
However…
I eventually learned that this was not a completely accurate view.
I was indeed quite good at using some Excel features. However, I wasn't that knowledgeable when it came to others. In some cases, I was surprised to find out Excel features that I didn't even know existed.
I also kept finding out that some of the ways I did things were not very efficient. In some cases, I could've saved tons of time had I known more about Excel.
Eventually, I came to my senses and decided to figure out all (or at least as much as I can) of Excel. I've invested, and continue to invest, hundreds of hours:
Reading Excel books and blogs.


Watching Excel tutorials.


Reading forum comments and discussions.
Does this mean I now know everything about Excel?
No.
I continue to learn new things and, sometimes, I'm still quite surprised by what I learn.
I mean: I'm certainly quite good with Excel. I'm also very good at finding solutions to the problems I encounter from time to time when working with Excel. Finally, I love documenting and organizing what I learn.
These characteristics allow me to create extremely detailed and comprehensive Excel tutorials, which I share with you through Power Spreadsheets.
However, when it comes to using Excel itself, I'm not yet at the level of Excel gurus such as Bill Jelen, John Walkenbach, Jon Peltier, Debra Dalgleish, Dick Kusleika, Daniel Ferry, Chandoo or Sumit Bansal. In fact, you'll probably notice that I profusely cite most of them (along with other Excel authorities) in most of my blog posts.
Overall, I'd say that I'm probably very similar to you when it comes to working with Excel:
I know that Excel is capable of amazing things. And I want to learn how to do them.


I know how frustrating and difficult learning Excel can be.


I like learning new things all the time.
These reasons have led me to create Power Spreadsheets. My main purpose with Power Spreadsheets is to share what I've learned and continue to learn about Excel. I do this by, among others:
Writing extremely detailed tutorials about Excel and VBA.


You can stay up to date regarding any new tutorials I publish in Power Spreadsheets by entering your email address below. Additionally, you get free access to my Excel Shortcuts Cheat Sheet and all the Excel workbooks that accompany the tutorials within Power Spreadsheets.


Participating, when I have some spare time, in the r/excel subreddit.
I hope that my work at Power Spreadsheets helps you to:
Avoid some struggles when working with (or learning about) Excel; and


Take your Excel proficiency to a complete new level.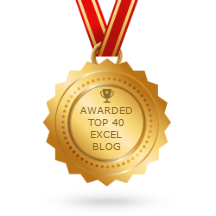 If you have any questions, comments or feedback regarding Power Spreadsheets, please feel free to leave a comment on the blog. I read each and every single comment, reply to them and take your ideas into consideration whenever creating new content.
This leads me to another of the purposes of Power Spreadsheets:
I want to improve my knowledge (and the knowledge of other readers) about Excel by hearing from you.
I love reading the comments readers like you leave in Power Spreadsheets explaining how they'd tackle an Excel problem or use a particular Excel feature, or just answering the questions I leave at the end of my tutorials. So make sure to let me know your thoughts whenever you read one of my blog posts.
Thank you for taking the time to read this. I hope to see you around Power Spreadsheets soon!
Jorge